TICKETS – 25th ANNIVERSARY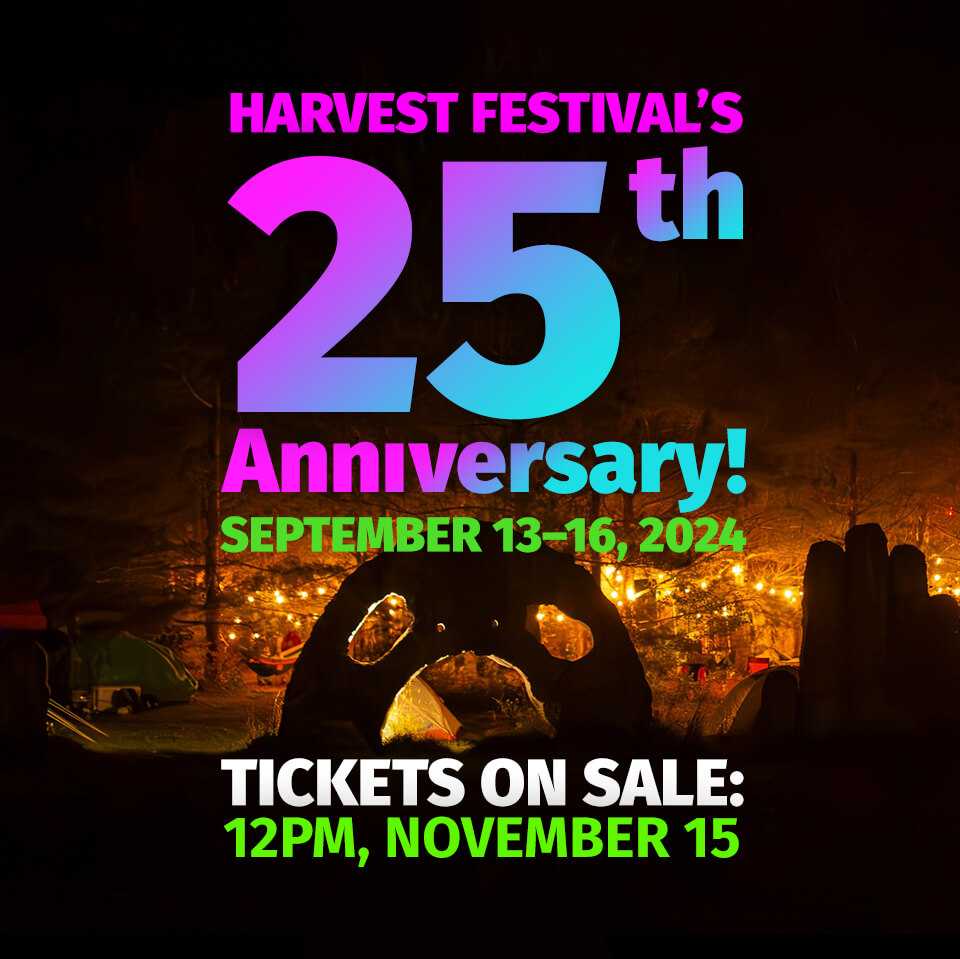 HARVEST FESTIVAL
SEPTEMBER 13-16, 2024
Please join us in 2024 for another four-day journey through the magical lands of Midlothian Castle and its Screaming Heads. While the 25th anniversary of Harvest is a way off, we know it will be exceptional in detail. We want to focus on the event and its production. We ask you to "plant your seeds early" for next year's big Harvest anniversary celebration.
When one tier sells out, the next tier is available. There is a 10-tickets per transaction limit.
TICKET TIERS
TIER 1: $290 +hst & fees (limit 600). Sold out
TIER 2: $333 +hst & fees (limit 600). Not many remain.
TIER 3: $368 +hst & fees (limit 400)

RV/Campers: $200 +hst & fees (limit 75) Sold out. There was a two passes limit. Comment on Facebook if still looking. See also the new generator rules.
Harvest Thermodome Cafe, Bistro meal plans (independent vendor) are available.
A portion of ticket proceeds will be donated to the Burk's Falls & District Food Bank.
Tickets are on a delivery delay. You will receive your tickets closer to the event date.
Problems? When buying, enter your address and info exactly as your credit card company has it on file. Check for messages from the credit card company. And note, demand for tickets was high on the first day of sale (Nov 15).
Refund Policy – Tickets are transferable but not refundable. If you make other plans, or have a sore throat or fever then please resell your ticket to friends or verified sellers. We love you. See you at the next thing. In the case of event cancellation for any reason, only the portion of ticket not already spent on producing the event will be refunded. As participants investing in community, together we share the risk of such loses.
Join our Community Online
More Events from alienInFlux
---
Thank You
Thank you to everyone who has already secured their spot to our 25th year anniversary at Harvest Festival 2024. Your ticket purchase will go towards making next year a year to remember..and of course the most magical ingredient to making Harvest what it is, is YOU!
Harvest festival 2023 was FANTASTIC! Many thanks for the gratitude shared online. We look forward to strengthening our bonds for years ahead. Additionally, we thank the many contributors for creating what we consider the best fest yet measured during the event and the seven weeks of set up and tear down. It was a dream and a humbling experience. Harvest Loves You!
Happy Harvest to all. Thank you for the magic.
Justin & Angela