Festival Guide
Location | Activities | Before You Go | Meals | Camping | RVs | Arriving | Health & Conduct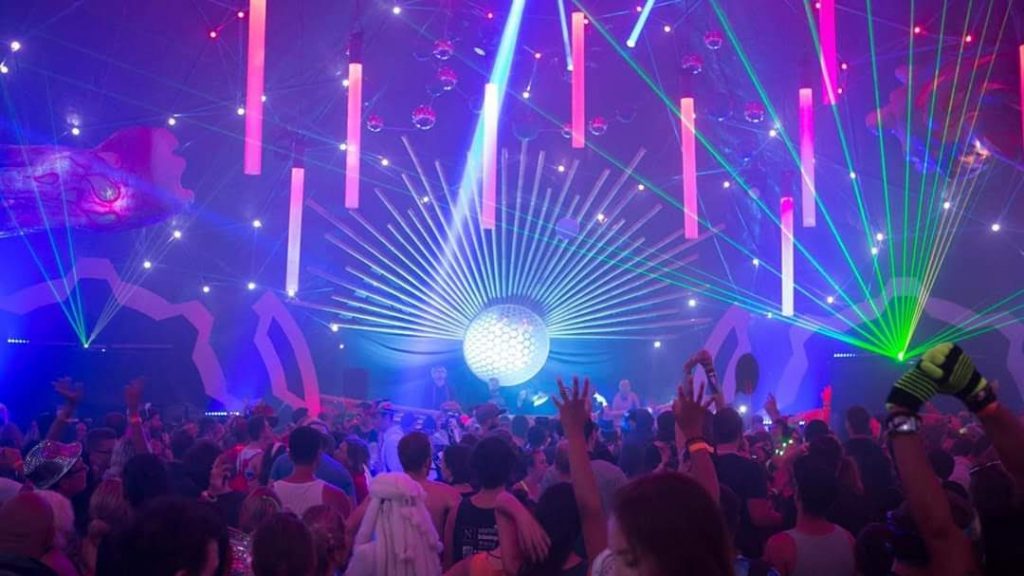 Harvest festival is an annual four-day event set against the backdrop of Midlothian Castle and its unique Screaming Heads, located approximately 2.5 hours north of Toronto near Burk's Falls, Ontario, Canada. It's held on the 2nd weekend after Labour Day each September and is produced by alienInFlux.
Celebrating its 25th anniversary in 2024, the festival has become a significant cultural gathering, showcasing house and bass music DJs, circus performers, talent and creativity. We're looking forward to another great experience with friends and friends of friends, new, old and to-be. We hope to see you at our other events as we build up to September.
Location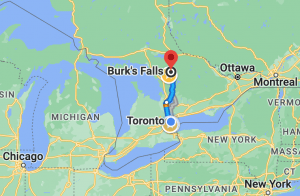 981 Midlothian Rd, Burk's Falls, ON
Toronto, Hamilton, Guelph 3-4 hrs. Ottawa 4-5 hrs. Montreal 6-7 hrs. Sudbury 2-3 hrs. Pearson Airport 2.5 hrs.
Gate: Friday 2 pm to Monday 4 pm

Rideshare – make a friend and save on cash and footprint.
The Heads | Thermodome | Crystal 6 | The Pyramid | The Pines | Crash | Midlothian Castle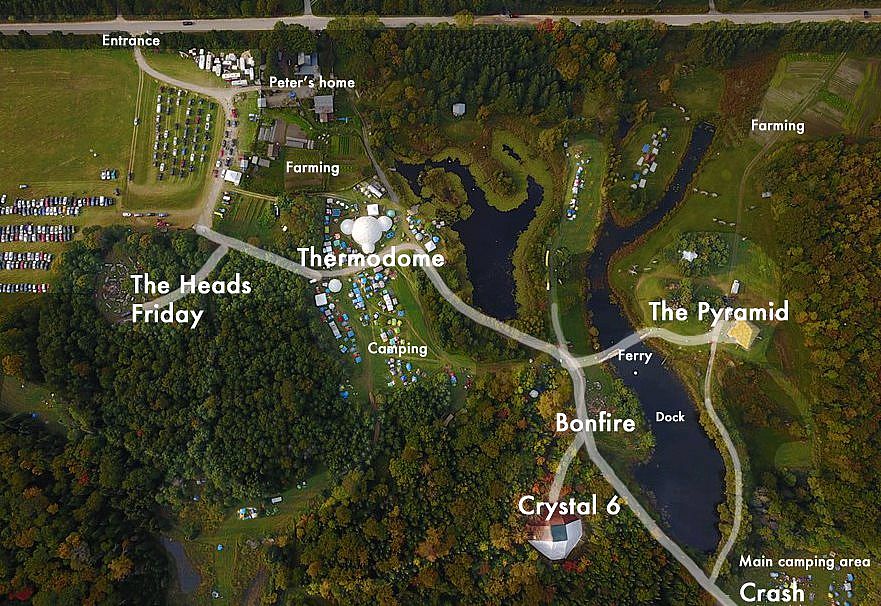 Activities
DJs and performers – We had a fantastic and balanced lineup over the three nights in 2023. The 2024 lineup will be announced in the summer.
Northfire Circus is in Crystal 6 on Saturday at 6:30 pm. They are stunning to experience. Lineup early. Maracatu Mar Aberto enters at 8 pm playing Brazilian percussion rhythms.
The Bonfire on Saturday is lit at 8:30 pm. Everyone joins to share the warmth and glow and celebrate the night ahead.
Saturday Workshops include meditation, and spirituality, art and movement. Open to all.
Swim off the dock or bring a floatie.
See participant videos and photos.
Before You Go
Packing Checklist – Do not bring any glass, fireworks, pets, sound systems, burning paper lanterns, or anything that would detract from the weekend's enjoyment. Again: ABSOLUTELY NO GLASS. We recommend using a trolly or wagon and packing light but be prepared for all seasons.
Download your e-ticket on your phone at home or print it. Don't expect data. Our arrival overloads the local cell phone tower although Bell peeks through.
Ticket Reselling – If you have other plans or have a sore throat or fever then please resell your ticket at cost through your own network or in the Facebook Group. We love you. See you at the next party.
Meals
1. Plan for meals for the four days. Keep it social: Consider teaming up.
2. Sit-down meals can be reserved ahead with the Harvest Thermodome Cafe, Bistro. Local vendor Pulled Smokehouse offers 5 delicious meal packages: the Friday Big BBQ Buffet, and the Saturday and Sunday brunch buffets and dinners. Learn more about the Thermodome
3. Vendors Fresh vegetables and goods from Peter Camani's farm are sold to the left of the Screaming Heads Merchandise stand. Light meals, and coffee are served by a couple of vendors such as The Banger, Wheelie Good Coffee, and ChocoSol.
Camping
1) Preparation: Print Packing/Meal Checklist See the list above and check the weather before leaving. The fall equinox is near. Be prepared for cold nights, hot days, dew, rain and even mud.
2) Setup Camp: Set up camp upon arrival so you can enjoy the festival. Meet your neighbours. For safety reasons, there is no camping tents, chairs, loitering or idling in the car parking areas. The quietest area to camp is also the main area for camping at the bottom right of the map below. Leave no trace and respect the land.
3) Departure: A designated driver should have 8 hours of sleep before departure and hopefully have a co-pilot to chat with. Be out by 4 pm on Monday. Prepare for police checks on the road.
RV/Campers/Trailers
The allowable generator run times are: Friday, Saturday, Monday: 12pm-4am (off with music). Sunday: 12pm-7:30pm (off with music). Please respect the health and safety of RV neighbours in the parking lot. Make sure your RV is equipped with a decent capacity 12 volt battery system, a propane refrigerator, and a propane stove. Generators must not exceed noise levels greater than 60 decibels from a distance of 50 feet.
Arriving
Harvest Gate 😱 Procedures🍂🌾 – Gate opens Friday at 2 pm. Have your ticket or e-ticket ready to show. If arriving at night, please turn dark mode off (On iOS say "Hey Siri, turn off Dark Mode" or Android see Settings app > Display > Dark Mode) and turn the brightness up. Once your ticket is scanned, please follow the directions of the staff and park as close to the next car as possible on the north side. All RVs will park by the gatehouse and castle. SUV/trucks will unhitch and park in the parking lot. more… Part of your ticket costs go to the local food bank. If you wish to give more, please donate at the gatehouse after you've parked. We are NOT taking canned food.
Health & Conduct
Health & Conduct Guidelines – We individually and as a group have a responsibility to: Eat good food, get good Sleep, drink lots of Water and Leave No Trace because Excess Makes a Mess so please Moderate Yourself and Friends! Consent, consent, consent, for everything. Even hugs. Have a sore throat or fever? Please rest at home and sell your ticket to a friend.
Security and Life-Safety Team – These men and women are trained to handle diverse situations from CPR to de-escalation and sensitivity training. They work closely alongside event management, the property owner, EMR and Harvest Haven so we can focus on enjoying the weekend.
Harvest Haven is a 24-hour dedicated confidential support place and team located next to the EMS and across from the Thermodome. Come for a quiet rest in our plounge space, find support, supportive offerings, warm up or cool down, join grounding and fun workshops, get safety training, or receive a nutritious snack.
Questions?
See the FAQ, send an email, or chat with supportive friends in the Facebook Group.