Harvest Haven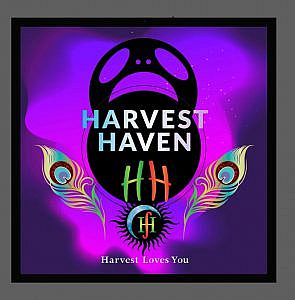 Say Hi to Harvest festival's new initiative. ❤️ We are the Harvest Haven, an intentional safe space honouring the philosophy of the sanctuary of the past and harvest health into the future.
Eat. Sleep. Drink Water. Moderate Yourself and Your Friends. more….
The Haven offers 24-hour dedicated confidential support to all Harvest Festival attendees. We are a non-judgemental group of folks dedicated to your well-being and care.
If you feel like you might need:
– A quiet rest
– Someone to provide support
– Warm up or cool down
– Grounding & fun supportive workshops
– A nutritious snack
– A break in our plounge space
– Safety training for all attendees
Let's all play safe together!
Location – The Haven is next to EMS and across from the Thermodome. You may also ask any crew or security member to guide you or radio for us.
SUPPORTIVE OFFERINGS, 2023
Harvest Haven humbly invites you to join us in our workshops specifically curated to evoke 🌼calm and grounding🌼. We thank every person offering their skills to the Harvest Haven and to you!! See also the Facebook Post.
Safety for your friends training with Hannah Stahl and Scott Duquette 🌻
Saturday 4 pm – 12 am
Sunday 8 am – 4 pm
Guided 1×1 with Hannah Palindrome 🌸
Friday 4 pm – 12 am, Saturday 4 pm – 12 am, Saturday overnight
Feeling mentally/emotionally turbulent? Overwhelmed? Stuck? Come find Hannah Bannana for some 1:1 care and meditative 🧘‍♀️ 😀 😊 somatic/ sonic guidance towards a state of greater ease.
Self Hypnosis with Tanya Pilaf 🌼
Saturday 8 am- 4 pm, Sunday 4 pm -12 am
Tanya is an experienced practitioner in self hypnosis and will guide this experience. Self hypnosis can also be described as strategic meditation 🧘‍♀️ ✨️. We welcome you to try this wonderful and unique workshop.
Reiki Healing with Chanel Lynn 🌸
Sunday 1 pm
After a night of dancing💃 👯‍♀️ 🕺 we invite you to visit with Chanel who is a skilled reiki practitioner. Chanel has very graciously offered her time to facilitate this gift to the Haven.
Morning Movement with Roxana Jam 😊
Monday 11 am – 11:30 am
Play with the Jam Fam! Before embarking on the long mission home, take some time to join our friend Roxana and her lovely family for some gentle stretches and movements to open up muscles and loosen up your body and mind. Roxana is multi disciplinary silks, aerialist and performer who has love for community dance and play ever since she was little❤️ Please accept our invitation for this wonderful offering.

🌸🌸We also would like to thank Chelsi Rodrigues for her time organizing Saturdays workshops outside of Haven. We also offer our gratitude to all folks facilitating workshops🌼 🌸 🌻

As always, Harvest Loves You